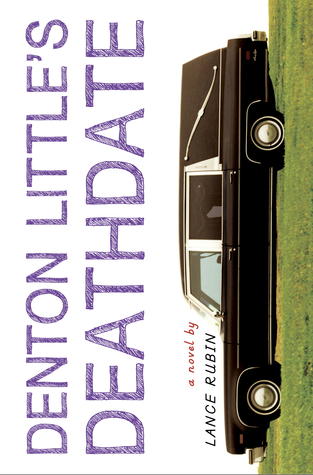 Goodreads Synopsis:
Fans of John Green and Matthew Quick: Get ready to die laughing.
Denton Little's Deathdate takes place in a world exactly like our own except that everyone knows the day they will die. For 17-year-old Denton Little, that's tomorrow, the day of his senior prom.
Despite his early deathdate, Denton has always wanted to live a normal life, but his final days are filled with dramatic firsts. First hangover. First sex. First love triangle (as the first sex seems to have happened not with his adoring girlfriend, but with his best friend's hostile sister. Though he's not totally sure. See: first hangover.) His anxiety builds when he discovers a strange purple rash making its way up his body. Is this what will kill him? And then a strange man shows up at his funeral, claiming to have known Denton's long-deceased mother, and warning him to beware of suspicious government characters…. Suddenly Denton's life is filled with mysterious questions and precious little time to find the answers.
Debut author Lance Rubin takes us on a fast, furious, and outrageously funny ride through the last hours of a teenager's life as he searches for love, meaning, answers, and (just maybe) a way to live on.
My Thoughts: 
I thought the concept of this book was something different than what I am used to, so I was excited to read it. The people at work went on about it, though not as much as other books. However, it just was not for me. That being said, I will be reading the second one because the ending was amazing and it sounds as though it is going to develop the science and government of the world. Fingers crossed!
I had so many questions about the science part of the world, we as readers did not get much information about how they figure out everyone's deathdate. There were so many cases that I was thinking "What if this? What if that?" Like what if they decided they wanted to commit suicide? What if they got in a freak car crash?
I did not really like Denton's character that much either. He seemed like that one person that tries way to hard to be funny to the point where it is actually quite annoying.
Toward the last couple chapters Paolo started calling EVERYONE babe and it was actually very strange for me to read because that's a term of endearment, not just a nickname type thing.
There was a bit where the reader is really put into Denton's shoes, it switches over to second person for a bit. At first this did not work out all that great, but a couple chapters later I quite liked it.
I loved all the twists and turns throughout, but I had read somewhere a spoiler(semi-spoiler? I won't say exactly what it was) for the ending, and they made it sound like that happened not at the very end so I was waiting and waiting for that to come and it didn't until two or so chapters before the end.
In all, it would have gotten another star or two if Denton had been portrayed differently, that's a personal preference, and the world had been better explained.
Huge thank you to Random House Childrens and NetGalley for giving me an eARC in exchange for an honest review.