I know of a couple blogs have done this before, where they have their readers pick their next read. Well, I'm stumped on where to start on my TBR piles (yes, I have two. One is called NetGalley books and one is physical copies.) I like to have one physical book and one e-book going at the same time because then I don't have to worry about my battery dying and I can read in the dark. It's a win-win. Here are my choices:
NetGalley:
Skewed–
No birth announcement could top the headlines from the day Janie and Jack Perkins entered the world. As twins born to a mother in a coma—courtesy of a bullet from their father—the sensational story of their birth never quite died down. While Jack still craves the flash of a camera, Janie seeks sanctuary behind the lens—as a crime scene photographer.
Thanks to Janie's line of work, she's comfortable around gruesome murders. But when old photos of her mother's body arrive in the mail, they open deep-seated wounds and raise chilling new questions about who was really responsible for that deadly night.
Did Janie's father spend decades in jail as an innocent man? Did an infamous serial killer actually take her mother's life? With photos in hand, Janie brings the truth into focus. But when her investigation ends up invoking the wrath of the long-dormant killer, she must race to piece together the final evidence—before she becomes the target.
Eeny Meeny–
Two people are abducted, imprisoned, and left with a gun. As hunger and thirst set in, only one walks away alive.
It's a game more twisted than any Detective Inspector Helen Grace has ever seen. If she hadn't spoken with the shattered survivors herself, she almost wouldn't believe them.
Helen is familiar with the dark sides of human nature, including her own, but this case—with its seemingly random victims—has her baffled. But as more people go missing, nothing will be more terrifying than when it all starts making sense….
Only Ever Yours–
Where women are created for the pleasure of men, beauty is the first duty of every girl. In Louise O'Neill's world of Only Every Yours women are no longer born naturally, girls (called "eves") are raised in Schools and trained in the arts of pleasing men until they come of age. Freida and Isabel are best friends. Now, aged sixteen and in their final year, they expect to be selected as companions–wives to powerful men. All they have to do is ensure they stay in the top ten beautiful girls in their year. The alternatives–life as a concubine, or a chastity (teaching endless generations of girls)–are too horrible to contemplate.
But as the intensity of final year takes hold, the pressure to be perfect mounts. Isabel starts to self-destruct, putting her beauty–her only asset–in peril. And then into this sealed female environment, the boys arrive, eager to choose a bride. Freida must fight for her future–even if it means betraying the only friend, the only love, she has ever known.
Doll Face– Six friends are returning home from a night out when they end up in a town called Stokes. They discover they are trapped there, as Stokes does not really exist. The actual town had burned to the ground more than fifty years ago. The Stokes they are in is a nightmare version of the former town, engineered by a deranged and undead mind, a supernatural machine of wrath that will destroy them one by one….unless they submit to its dominance and become living dolls.
Physical Copies:
The Five People you Meet in Heaven–
Eddie is a wounded war veteran, an old man who has lived, in his mind, an uninspired life. His job is fixing rides at a seaside amusement park. On his 83rd birthday, a tragic accident kills him as he tries to save a little girl from a falling cart. He awakes in the afterlife, where he learns that heaven is not a destination, but an answer.
In heaven, five people explain your life to you. Some you knew, others may have been strangers. One by one, from childhood to soldier to old age, Eddie's five people revisit their connections to him on earth, illuminating the mysteries of his "meaningless" life, and revealing the haunting secret behind the eternal question: "Why was I here?"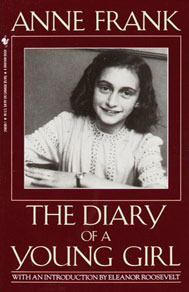 The Diary of a Young Girl
Discovered in the attic in which she spent the last years of her life, Anne Frank's remarkable diary has since become a world classic—a powerful reminder of the horrors of war and an eloquent testament to the human spirit.
In 1942, with Nazis occupying Holland, a thirteen-year-old Jewish girl and her family fled their home in Amsterdam and went into hiding. For the next two years, until their whereabouts were betrayed to the Gestapo, they and another family lived cloistered in the "Secret Annexe" of an old office building. Cut off from the outside world, they faced hunger, boredom, the constant cruelties of living in confined quarters, and the ever-present threat of discovery and death.
 
I know some of the summaries are long, and you don't have to read them all, these are taken from NetGalley and Goodreads.
So now my question is:
WHAT BOOKS??