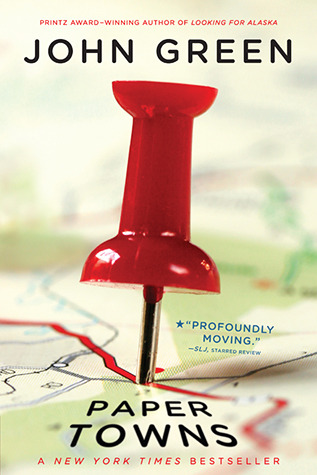 Goodreads Synopsis:  
Who is the real Margo?
Quentin Jacobsen has spent a lifetime loving the magnificently adventurous Margo Roth Spiegelman from afar. So when she cracks open a window and climbs into his life—dressed like a ninja and summoning him for an ingenious campaign of revenge—he follows. After their all-nighter ends, and a new day breaks, Q arrives at school to discover that Margo, always an enigma, has now become a mystery. But Q soon learns that there are clues—and they're for him. Urged down a disconnected path, the closer he gets, the less Q sees the girl he thought he knew…
My thoughts: 
 Oh John Green. The first two John Green Books I read were Looking for Alaska and The Fault in Our Stars. Needless to say they were both really horribly sad, stay up all night bawling your eyes out sad. And I still didn't cry. I was too distracted by the random quotes that were really in depth and out of character, but I didn't have that problem with this book. The quotes just seemed them. It didn't seem like they were trying to be philosophical, it just came out that way. 
I continue to read John Green books because of the stories, they always make me think about life in a new way. It's been about two or three years since I read Looking for Alaska and I still think about the labyrinth. This book was not any different. I read it in two days (if you count 2am the third day as still day two). I devoured it and then I sat up for another hour contemplating everything in life. 
Onto Margo. Margo, Margo, Margo. She scared me, in a good way. I kept flipping the pages, I wanted to uncover the mystery before Q did, but apparently that was impossible, so don't waste your time trying! She was such a mystery and I kind of want to read that detective story she wrote when she was young. Also, how does she understand the crosshatch writing?
The only thing that really bothered me was that he switched tenses, from past to present and very few books can pull that off. This was not one of them, but I hardly noticed except for one instance which only bothered me for a couple pages which makes it very easy to give it a 5/5 rating.