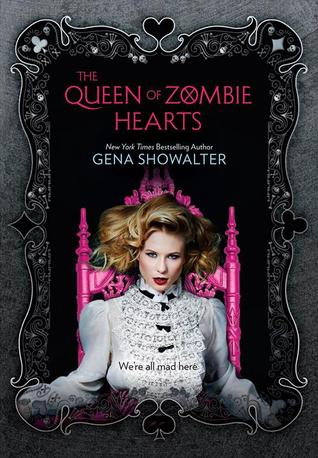 This book is the third book in a trilogy.
Author: Gena Showalter
Goodreads Synopsis:
I have a plan.
We'll either destroy them for good, or they'll destroy us.
Either way, only one of us is walking away.
In the stunning conclusion to the wildly popular White Rabbit Chronicles, Alice "Ali" Bell thinks the worst is behind her. She's ready to take the next step with boyfriend Cole Holland, the leader of the zombie slayers…until Anima Industries, the agency controlling the zombies, launches a sneak attack, killing four of her friends. It's then she realizes that humans can be more dangerous than monsters…and the worst has only begun.
As the surviving slayers prepare for war, Ali discovers she, too, can control the zombies…and she isn't the girl she thought she was. She's connected to the woman responsible for killing—and turning—Cole's mother. How can their relationship endure? As secrets come to light, and more slayers are taken or killed, Ali will fight harder than ever to bring down Anima—even sacrificing her own life for those she loves.


My Thoughts:
I posted on Twitter, not that long ago that I was ready, along with a picture of the first page. I wasn't. I did not realize what I was getting myself into. This book starts with the death of a handful of characters, and the count continues throughout the book. I was a big girl though, I only cried over one. I did not think Gena Showalter would cross that line, but she did.
In this book Anima uses countless ways to tear down their forces in their quest to capture Ali, you learn a secret that changes Ali's entire perception on the world and she double thinks everything she ever believed before. Then there's Cole, still just as sure in his ways and even tougher than ever.
I am in the middle of multiple books right now, all of which are written for adults so this writing took a little bit to get used to. There is a cutting edge to everyone's voices and all the characters are so strongly written they jump off the page and into your face. That kind of writing takes some getting used to.
Bonus:
In the end of my book there was a scene from a previous book written in Cole's perspective.