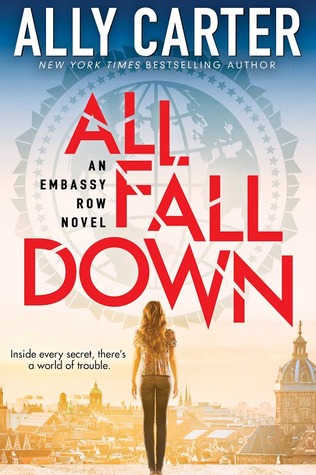 All Fall Down- Ally Carter
Goodreads Synopsis:


This exciting new series from NEW YORK TIMES bestselling author Ally Carter focuses on Grace, who can best be described as a daredevil, an Army brat, and a rebel. She is also the only granddaughter of perhaps the most powerful ambassador in the world, and Grace has spent every summer of her childhood running across the roofs of Embassy Row.
Now, at age sixteen, she's come back to stay–in order to solve the mystery of her mother's death. In the process, she uncovers an international conspiracy of unsettling proportions, and must choose her friends and watch her foes carefully if she and the world are to be saved.
My thoughts:
I was a huge fan of the Gallagher Girls series so I was so excited when I heard she had a new book coming out. I almost jumped up and down when I saw my hometown library actually had it. Normally the new releases have holds on them for months after they hit the shelves. I read it in two days.
I began being able to draw parallels between Cammie and Grace and even told one of my friends that it was better than the Gallagher Girls. I soon found out I could not even begin to compare the two. They were two different people with two different lives. Grace was just enough of a daredevil that she weighed the risks and knew exactly what she was getting into, which made it all the more enjoyable. She is very set in what she believes in and this led to me feeling sorry for her when no one believed her.
There are multiple guys in her life, and so many friends she meets that represent each country- or a mixture of two. They all look out for her, but at the same they know if she wants to do something they are not going to be able to stop her. Having all of these guys will probably lead to more trouble along the way, but I don't think I'll know who to root for in the battle for her heart.
I'm really curious to read the next book and see how she develops. I think Grace will become a young woman who is a necessity when it comes to politics and keeping the peace. I really hope Ally Carter talks more political issues than the romances.