For those of you who don't know, Top 10 Tuesday is a weekly feature run by The Broke and Bookish. This week's topic is Top 10 books I've read in 2015. To put this in perspective, I have read about 20 books.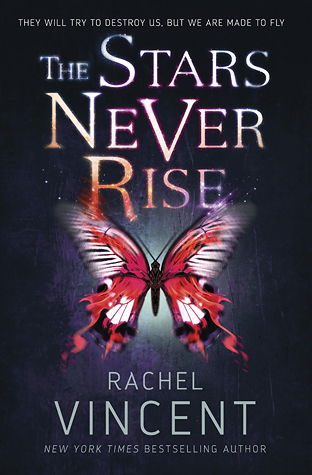 1. The Stars Never Rise- Rachel Vincent
Nina Kane is a 16 year old living in a city run by the Church. In this world, demons have eaten the majority of the souls available. She spends her life finding ways to get food and money for her and her little sister, her mom sleeps all day and is basically non-existent.
Nina's sister, Mellie, is hiding something that threatens their lives and Nina will do anything to protect her. She meets Finn, a green-eyed fugitive exorcist that has saved her life before. She must join up with him and his friends in order to save Mellie and herself.
 In a world where there are two kinds of blood, Silver rules over Red the Red are slaves, and the Silvers think they are treating them well by letting them live. The Silvers have different abilities, from reading minds to controlling metal. One day Mare, a Red who is about to be sent to the army, gets the chance to work as a servant for the royal family.
During the Queenstrial, she falls on top of a shield made of lighting, a fall that should have killed her– but it didn't. Instead it awakened powers only Silvers can possess. The King and Queen take immediate action to hide her true colors from the rest of the kingdom. 
Margo Roth Spiegelman grew up next to Quentin. She was a mystery, but her life seemed full of fantastic adventures. One night she climbed into Q's room and he got an adventure of his own.  But the next day she disappears with nothing but a couple clues for Q. He then heads off to find her.
Joe O'Brien, a 44-year-old police officer and caring father of four, begins to experience episodes of temper and involuntary movements. Such actions worry his wife, so he goes to the doctor for testing and finds out he has Huntington's disease. To make matters worse, there is no treatment for this disease, and each of his children have a 50 percent chance of inheriting it. Meanwhile, Katie, one of his daughters, decides whether she wishes to take a blood test to learn if she has inherited it.
From the outside Sam McAllister seems to be like every other popular kid. What no one knows is she suffers from Purely-Obsessional OCD- she second guesses every move and on top of that her friends will turn against her the first time she chooses the wrong anything.
Then she meets Caroline, a girl with a sense of humor and no style. Sam keeps her a secret along with the Poet's corner, a group of misfits who meet during lunch and write and perform poetry. She begins to fit in more and more with them, until she discovers a new reason to question her sanity.
In this dystopian world girls are bred and sent off to schools where they learn how to be "perfect." Their genes are as good as they can be, but they are taught they can still improve. They are trained in how to please men and at graduation may be able to go on to become a "companion" if they are deemed good enough. The others are teachers or concubines- either to help improve the next generation or please the men. freida and isobel are sure they will be chosen as companions, but the intensity of the final year begins to take hold. Can they handle the pressure?
This is the third book in a trilogy I was reading. Ali thinks she's done with the worst of the fighting, all they have to do is finish off Anima, the company that controls zombies. She just wants to focus on Cole and their relationship- until Anima attacks them. The survivors from this sneak attack prepare for war and another twist comes when she meets the woman responsible for the death of Cole's mom.
Daredevil Grace goes to live with her grandfather in Embassy Row, a space where ambassadors from all over the world come to reside. She is a brat and a rebel who pushes the boundaries time and time again. When her mother dies she is convinced she saw a man kill her- though it was ruled an accidental death. Then Grace sees this man again and again- but everyone else says she imagined it. Along the way of discovering this man she goes over and under Embassy Row and uncovers an international conspiracy.
In an alternate 1984 Big Brother is always watching. Any thought against the government is deadly. Winston begins to try to escape the telescreens that are all over the city, these can transmit and receive anything that happens, and falls in love with Julia. Winston decides he hates the government and wants to join the rebels- however things don't really go according to plan. Well, there you have it. my top 10 books. By this list it seems as though I am all for alternate realities and different governments, it makes me think so much more about how life is here. Have you read any of these books or did I just add to your TBR?