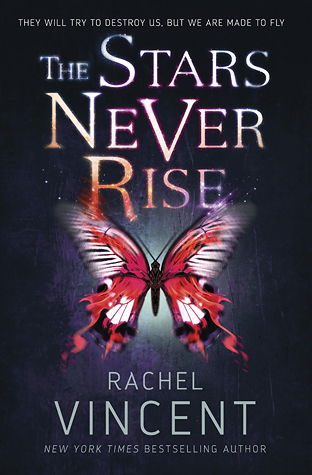 Author: Rachel Vincent
Synopsis:
     Nina Kane is a 16 year old living in a city run by the Church. In this world, demons have eaten the majority of the souls available. She spends her life finding ways to get food and money for her and her little sister, her mom sleeps all day and is basically non-existent.
     Nina's sister, Mellie, is hiding a sin that threatens their lives and Nina will do anything to protect her. She meets Finn, a green-eyed fugitive exorcist that has saved her life before. She must join up with him and his friends in order to save Mellie and herself.
My Thoughts:
     Well, Rachel Vincent sure knows how to make the words jump off the page and she makes me keep turning the pages time and time again. I really enjoyed her Shifters series and Soul Screamers so when I heard she had another coming out, I wanted to read it. (I still need to read Lion's Share). I feel like I'm holding something special in my hands whenever I read her books and she is really under appreciated.
     Nina Kane is the main character and at the beginning I thought she was going to be like every other big sister/ parent-for-the-child-that's-neglected-and-she-has-to-support-her-family character and in a way she was. She would do anything for her little sister, including putting herself in harm's way. But there are so many twists and turns thoughout the book I stopped noticing. As soon as one plot point ended or I had gotten used to a plot twist, another thing was thrown at me.
     At one point I realized it just cruised along and realized some people might find it really fast paced, but that's part of the what I like about Vincent's writing. I always feel like I'm in the middle of the action, the characters never get to rest so neither do I.
     There is a slight romance- and then Nina finds out a secret. I think Vincent is slowly leading up to things and she will for a couple books and then everything will happen and I can't wait!
     I can honestly say I've never read a book about the Church controlling everything and a society where there's demons to be feared and I'm so glad this was my first one. I'm waiting on the edge of my seat for the next one to come out.