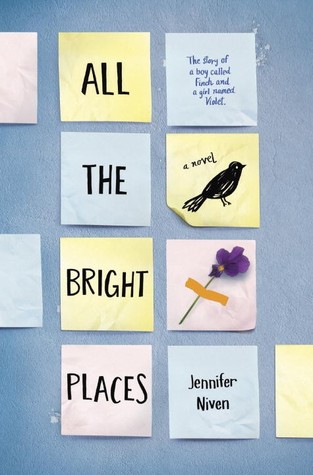 Author: Jennifer Niven
Pub Date: Jan 6, 2015
Rating: 2 stars
Synopsis:
Violet and Finch are two teenagers who meet on the ledge of the school's bell tower and talk each other down. Finch has thought about killing himself many times before and Violet is still trying to get over her sister's death. When Finch claims Violet for a partner on a class project her teacher won't let her get out of it. Through their wanderings of Indiana Finch tries to draw Violet out more and more, bringing her back to life and Violet tries to show Finch the perfect day.
My Thoughts:
The premise of this book sounded really interesting, I knew it would be hard to pull off and I think I was right. I did not like this book at all. I could not empathize with the characters one bit and it was really difficult to keep picking up time and time again.
If I had to narrow the reason for this down to one thing it would be Finch. He is really annoying and he tries to push her way to hard and way to fast that she becomes dependent on him. And I think he knows it too. He also seems slightly creepy (okay more than slightly but still). He gives very little warning as to when he will show up, and forces her into a car with him when she wants to bike places, shows up at her house etc. Her parents have a right to be worried about him. Finch goes through these periods of time where he is "asleep." Don't ask me what that means because I have no clue, all I know is they last for days.
The characters are both troubled, and both have mental illnesses, but there's not much else about them. Everything comes back to this one thing. Everything comes back to suicide and yeah it may be heartless, but there should have been more. More of everything. More character building. More plot. More emotions. More parental involvement. Etc. I know some parents ignore things such as this but they don't even try to keep track of their kids. Finch's friends are like "yeah he leaves sometimes" and Violet's parents are all "even though we just told her she's not allowed to see this boy let her just go to random people's houses."
I'm probably not forming thoughts very well at this point and it's just blabbering but that is actually kind of what the book seemed like too. It just went on and on and on.
What did you think of this book, or did you read it?