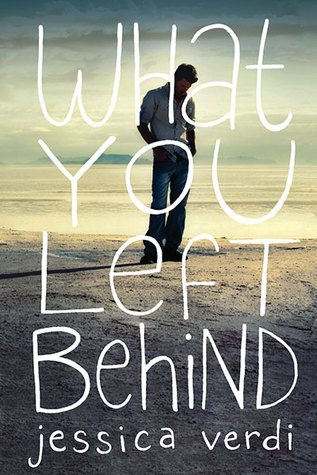 Author: Jessica Verdi
Pub date: Aug. 4 2015
Rating: 4 stars
Contact the Author: Website, Twitter, Facebook, Goodreads
     This book is all kinds of drama and secrets. Ryden is just starting his senior year of high school and has just lost his girlfriend, Meg, to cancer. However, she left a couple things behind. Some journals and his daughter. Now Ryden has to finish high school, raise a child and hopefully get into UCLA on a soccer scholarship.
     This book haunted me every second it wasn't in my hand. When I got toward the end I shut off my tablet because I knew I was probably going to cry. Then I needed to know what happened and turned it back on.
     At first it seemed as though Ryden was doing the best he could, he was juggling a job and raising Hope with the help of his mother, then he started having Meg's best friend, Alan, take care of her during soccer practices. Really? He made her friend take care of his kid when Alan wanted to do an extracurricular. Alan had nothing to do with her getting pregnant!!
     Then school starts, he has so many more things to worry about and under all of the stress I thought he was becoming a worse parent. However, he has a great support group. For once, a YA book had a supportive mother who is actually there. It was super refreshing.
     When Joni, a girl he works with, is first introduced I was thinking "oh no, not another love story" but it is. That's not all it is, it's also a story of growing up, finding yourself, and forgiveness. There are a lot of curveballs that happened throughout this story and the reader is with Ryden ever step of the way.
     Ryden continuously lies to Joni, not telling her that he has a child which is obviously a giant portion of his life. I actually don't like Joni. There was not only the fact that I didn't click with her, and the clothes. For multiple reasons, but I think the main reason was just that she wasn't the type of person I saw him with. I thought he would be with a cheerleader to feel like his old self again. Also, I did not want him to move on from Meg so fast. I thought the romance was unnecessary. Unless it was after he figured everything out.
     What You Left Behind is told from Ryden's perspective. He's funny and entertaining and like no other character voice I have ever read before. He is both instinctive and impulsive, which means things tend to go well, except when they don't. He is really trying his hardest to raise Hope, but he is just a teenager and I think this novel accurately portrays what it would be like to be thrust into a situation like this.
     This book grabbed me from the very beginning and never let me go. I loved every second of it, and the journals were such a creative way for us to know Meg's motives and who she was as a person. Even though she was dead the entire novel, I thought I really knew her. Sometimes I wanted to strangle her and other times hug her and tell her it's all going to work out in the end.
A giant thank you goes out to Netgalley and Sourcebooks Fire for giving me an e-arc. Their generosity in no way effects the context of my review or my rating.


If this review has made you want to read this book you can enter the giveaway here open from August 4th to August 18th:
a Rafflecopter giveaway
//widget-prime.rafflecopter.com/launch.js
Or you can buy it at Amazon or Barnes and Noble
About the Author: Jessica Verdi lives in Brooklyn, NY and received her MFA in Writing for Children from the New School. Her favorite pastimes include singing show tunes at the top of her lungs (much to her husband's chagrin), watching cheesy TV, and scoring awesome non-leather shoes in a size five. She's still trying to figure out a way to put her uncanny ability to remember both song lyrics and the intricacies of vampire lore to good use.