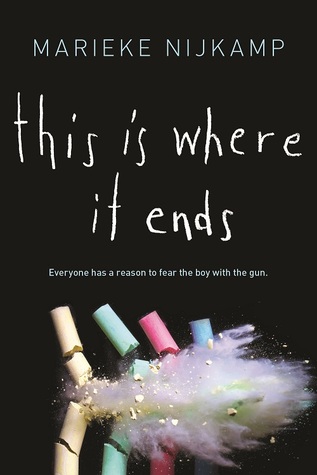 Title: This is Where it Ends
Author: Marieke Nijkamp
Pub Date: January 5, 2016
Rating: 7/10
2 Sentence Summary:
It's a normal school assembly, but when they are left the doors to the auditorium won't open. Then shots rang out.
My Thoughts:
The premise of this book captured me, reminding me of Jodi Picoult's Nineteen Minutes. I mistakenly went in expecting something similar. It was nothing similar. This is a quick-paced book. It took place over the course of an hour, an hour that seemed to drag on and on as more and more people died.
Before I get into all of the things I liked, I must say the reason I rated this so low was because it seemed to drag on after a bit, it never really seemed like it was going to end. Also there were five different perspectives and each of these came with family and friends attached to them. It was very overwhelming and it wasn't until the last 25% or so I actually understood all of these connections.
There were a lot more things I liked. Whereas Nineteen Minutes talked about the aftermath and the court case This is Where it Ends puts the reader right in the middle of the action. The reader can actually see the shooter walking down the hall, flipping his gun, the conversations with police and all the other things and that is probably what will make this unforgettable in my eyes.
This story is very timely as well, while shooting are becoming all to common, this book takes a look at what it is actually like. The fear shows so well, it was almost as though Nijkamp was at the fictional school when it happened.

Similar to: Jodi Picoult's Nineteen Minutes.
I received an advance review copy from NetGalley and SourceBooks Fire. Thank you guys so much, it in no way influenced my review 🙂